Eloise Allen-Bowton, '23
22W French FSP Paris
allen-bowton_eloise.jpeg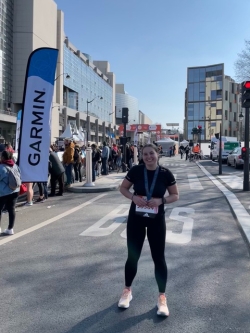 I'm originally from Sydney, Australia and came to Dartmouth to major in Economics. Along the way, I've ended up picking up minors in both ENVS and French. I'm on the Dartmouth Triathlon Team and a part of the Decibelles. I decided to do the Paris FSP because I loved my French 10 class with Professor Beasley and she really encouraged me to apply for it. I am so glad that I chose to do the program and really enjoyed the freedom that we had to travel during the weekends. I feel that my language skills really improved as well as my understanding of French culture. Another aspect that I really enjoyed about the program was living with a host family. It was wonderful to be able to see how people live their lives as well as discuss political, linguistic, and cultural aspects of a society in a non-graded environment. 
An important lesson that I learned is how to prioritise what I want to do because when you're in-country, you inevitably run out of time. I chose to become a student alumni mentor because I think that it's important to have someone to discuss aspects of study abroad like group dynamics or loneliness with someone who is your peer and has gone through a similar experience. While none of these things are necessarily going to ruin the experience, having to chat with them is always a good option. 
Contact me at Eloise.s.allen-bowton.23@dartmouth.edu. I'll be on campus 22F, 23W and 23S!